Fine Dine and Wine Etiquettes
INTRODUCTION
Table manners play an important part in making a favourable impression. They are visible signals of the state of our manners. Learn fine dining etiquette at Confianza Finishing School to bring out a confident and refined individual in you
TABLE MANNERS
Learn how to hold a fork and knife.
Learn how to navigate between Continental and American style of eating.
Napkin manners
Eating soup and bread manners
DO'S AND DON'TS OF BUSINESS DINING
Learn pre-dining etiquettes as a host/ guest
Learn when to talk business while dining.
RESTAURANT MANNERS
Learn to make reservation at a restaurant.
Learn how to order food as a host/ guest.
Develop the art of reading table settings and follow utensil manners.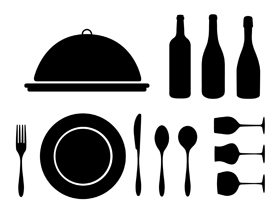 WINE ETIQUETTE
Enhance the knowledge on the various types of wines.
Get aware of some of the pronunciation of popular wines.
Recognize the use of various types of glassware and stemware for serving various wines.
Learn the process of wine testing and wine pairing.
Gain more knowledge on wine service, storage and flaws.
PRACTICAL SESSION OVER A LUNCHEON
Learn and enjoy a four-course meal along with the founder.
Learn the art of using chopsticks.
Cultivate the art of fine dining.
Course Duration:
Each course can be customized as per the request and requirements, hence the duration depends on the number of modules selected. Each session is up to 2 hours.
Online sessions available
Course schedule and timings:
we offer 3 time slots: 11am to 1pm/ 3pm to 5pm / 5.30pm to 7.30pm. The time slots can be chosen as per your convenience and our availability
Courses Offered

It's important to make a good impression at mealtime, and your table manners can say a lot about your sense of personal style.